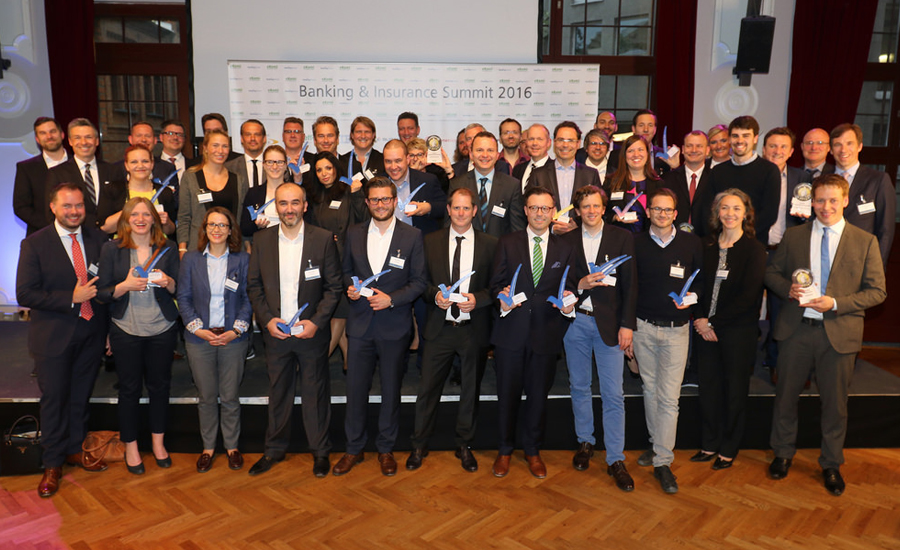 Award ceremony of the eKomi & BankingCheck Award 2016
After a four-month voting period, we have been looking forward to welcome all active participants and guests as part of the Banking and Insurance Summit with the Award ceremony of the eKomi & BankingCheck Award 2016 on May 19th, 2016. Since 2012 the BankingCheck awards are presented in various financial categories annually. This is based on the reviews cast at bankingcheck.de by customers for banks, insurance companies, FinTechs and financial service providers. The event was held this year in the beautiful ballroom "Walzerlinksgestrickt" in Berlin's trendy Kreuzberg district. We were very pleased with your participation at the event with fantastic weather and the enchanting atmosphere of the ballroom!
Your vote counts!
The BankingCheck Award 2016 can look back on a successful campaign period. With more than 60,000 customers voices the number of reviews in the voting period tripled from 01 January to 30 April 2016. During the event, awards were presented in 34 categories of BankingCheck and seven eKomi categories. Many new categories were introduced, such as Robo Advisor, equity crowdfunding platform and corporate credit. Overall, more than 100 banks, financial service providers and insurers have actively participated this year.
In addition to the evening awards ceremony we initiated an inspiring panel discussion on the subject "Customer feedback management as an essential part of the Digital Transformation – A central aspect or incidental". The full-day event was held under the motto: "Digitization of the customer relationship – trends for banks and insurers".
We hereby thank all customers who share their experiences with us and other users in the network – and banks, financial service providers and insurers, who actively participated in the action and all the guests for the wonderful event!
More information
More details about the event, the provider and product categories and additional information can be found on the BankingCheck Award site.
Impressions of the Banking and Insurance Summit can be found on our Flickr account.